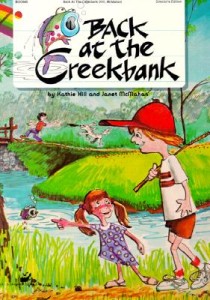 Okay, I just can't contain my excitement! I recently found that a couple of albums that I loved as a kid have been remastered for CD. I've ordered both. We are playing the first one that arrived just now. In fact, it arrived yesterday evening and we must be on our tenth round about now. My kids like it almost as much as I did as a kid.
This one is called Back at the Creekbank. It is the story of kids going fishing at the creek bank with Mr. Jenkins, and includes songs to teach great morals for kids. My favorite songs are "Drop a Pebble in the Water" and "God Paints the World with Love." My kids' favorite song is the same as mine was when I was their age—"Riddle Me, Riddle Me"
I have to be just a little sentimental too. My brother Ben and I sang two or three songs from this album for special music as children. I can remember that one or both of us were missing teeth when we sang one of these songs and were lisping with the best. Wish I had a recording of singing with my little brother. It makes me miss him. He would enjoy listening to this album with my kids as much I do.